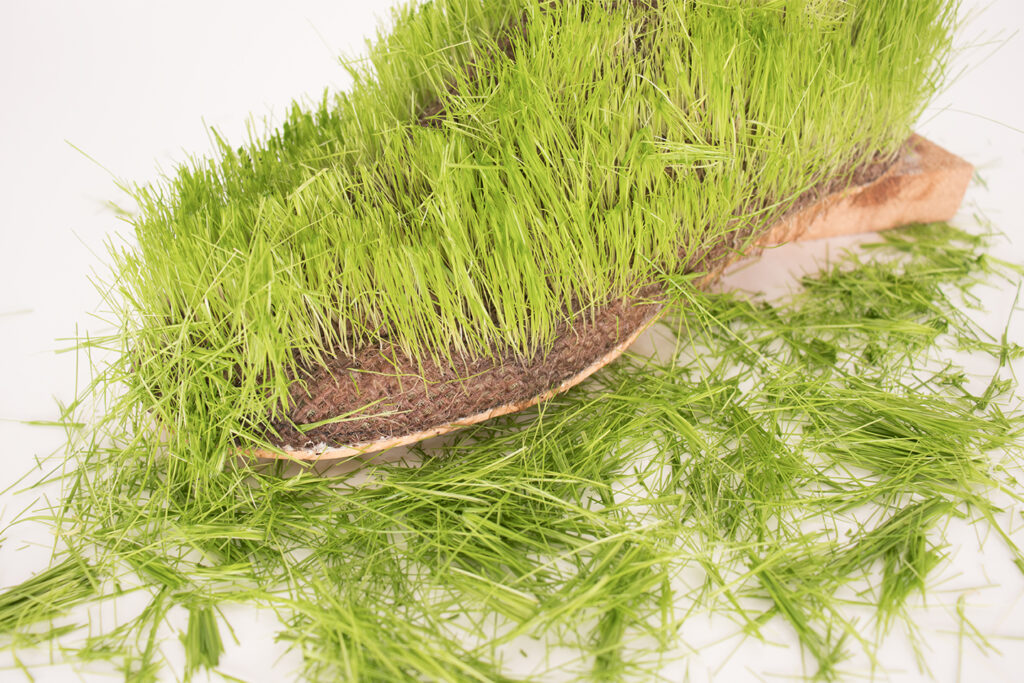 Grass Shoes elevates taking care of shoes to a new level. Grass Shoes instils the idea that in the future your products can grow from a single seed in your own home. Although the Grass Shoes are meant to be a step in-between the ideal future of growing products from a single seed as the fabric is a hybrid of several components. The fabric of the shoes consists out of cotton, burlap and grass seeds that overtime grow interwoven. The shoes are stored in a small greenhouse that protects as well as displays the designer shoes. As the grass on the upper part of the shoes grows it can be trimmed in patterns and designs to one's desires. And since the grass will continue to grow when taken well care of, it provides the owner with more opportunities to change up the styles of the shoes as the fashion seasons change. 
In regards of the changing (fashion) seasons, the shoes are a comment on our current consumerism behaviour in which items of fashion are so easily bought, used and discarded.
The Grass Shoes are supposed to be a labour of love, made to be taken care of like a miniature garden. It changes the way fashion items are consumed and aims to be a more sustainable answer to the ever-changing trends in fashion. 
The owner of the Grass Shoes must adapt to the rhythm and speed of the growth of grass in order to express him/herself in the desired style of the shoes. The Grass Shoes can shape and reshape itself time and time again. The shoes can be given water and is housed in its own greenhouse that resides in your own living space. It gives a new meaning to taking care.